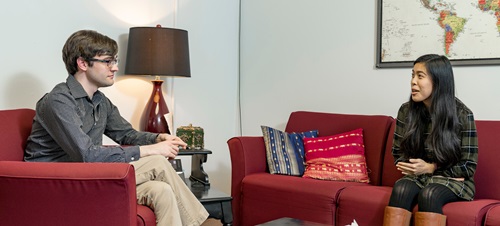 Clinical Psychology
Explore your individual interests within the broad areas of psychology through a wide range of evidence-based clinical and research training experiences involving a variety of settings and populations.
Get the Clinical Research Training You Need to Succeed
As a clinical psychology student at USD, you will receive ongoing training and have opportunities for at least two additional 9-12 month practicum experiences. Our clinical faculty maintain active research programs involving laboratory-based research, survey studies and/or community-based field research. As a result, you'll be exposed to a diversity of research methodologies, including both quantitative and qualitative methods. Designed to provide a strong theoretical base, your coursework can be readily applied to various working environments and prepares you for careers in business, industry and government.
Become a caring and competent professional as a clinical psychology graduate student at USD.
Degrees & Offerings
Psychology: Clinical Psychology (M.A./Ph.D.)
Master's + Doctorate
Earn your master's on the way to earning your Ph.D. in the clinical psychology program at USD. It requires 106 credit hours of core psychology and clinical psychology coursework, a master's thesis, several electives and a dissertation.
Psychology: Clinical Psychology and Clinical/Disaster Psychology (M.A./Ph.D.)
Master's + Doctorate
Pursuing a clinical/disaster psychology specialization with your Ph.D. requires an additional 12 credit hours to the 106 credit hours required for the doctoral degree. This involves selected coursework, research, and practicum experiences that are in addition to, but co-occurring with your clinical psychology training.
Psychology: Clinical Psychology (M.A./J.D.)
Master's + Doctorate
Students who are already enrolled in the USD Knudson School of Law and who have sufficient background in psychology may qualify for this Board of Regents concurrent degree leading to the M.A. in Psychology. Consult with the department chair for more information.
Program Details
Graduate
College
Department
Contact
Graduate Admissions
Start Your Application Today
Each program has unique application requirements and deadlines. Be sure and consult the graduate catalog for detailed program information. It will ensure your application and materials are complete and submitted on time. To learn more about the application process, visit how to apply.
Departments & Facilities
Explore the departments, facilities and centers that contribute to your education in psychology.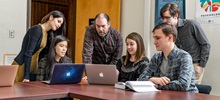 Expand your understanding of the human mind and behavior as you develop strengths in research, critical thinking, advocacy and service.
Faculty & Staff
Get to know your professors in the Department of Psychology. Our faculty serve as experts in their fields and maintain active research involving laboratory-based research, survey studies and/or community-based field research.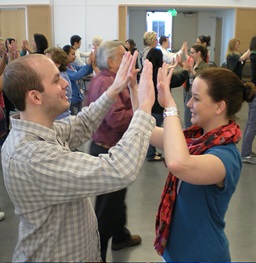 Building Bridges
The Building Bridges Conference was established as a grassroots initiative in 1997 as a dream of two clinical psychology graduate students, who believed that to encourage Native American youth to persist in their education, there needed to be a bridge between their traditions and the traditions of higher education.
This annual event is a collaborative conference sponsored by the clinical psychology program and the psychology department in the College of Arts & Sciences and by the Center of Excellence in Minority Health and Health Disparities.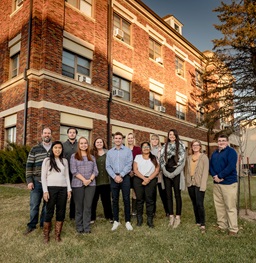 Psychological Services Center 
The Psychological Services Center (PSC) serves as a teaching, training and research center. At USD, the clinic provides the following services:
Assessment & Therapy Services to children, adults, couples and families through a variety of modalities including brief and longer-term individual, family and group psychotherapy.
Consultation & Training may be arranged for individuals and groups. Examples include stress management, eating disorders, child abuse, depression, spousal/partner abuse and suicide prevention.
Procedures and psychological services are provided by doctoral students under the supervision of licensed psychologists.
Surprisingly Affordable
Whether you've recently completed your undergraduate degree, or you want to kick your career up a notch, graduate school is the next logical step. The good news is there is funding for both online and on-campus students to get you through your program.
| | GA (Resident*) | | Online | Non-Resident |
| --- | --- | --- | --- | --- |
| Tuition (1 cr.) | | | | |
| GAF Fee (1 cr.) | | | | |
| Total | | | | |
More About Tuition & Fees
Tuition rates are subject to change and may vary depending on the program or department. Visit the Graduate Tuition & Costs page for more information.
* Graduate Assistant (GA) rates are available for resident, non-resident and online students.
The clinical psychology program has been continuously accredited by the Commission on Accreditation of the American Psychological Association since 1971. Questions related to the program's accredited status should be directed to the Commission on Accreditation:
Office of Program Consultation and Accreditation
American Psychological Association
750 1st Street, NE, Washington, DC 20002-4242
(202) 336-5979
apaaccred@apa.org
apa.org/ed/accreditation