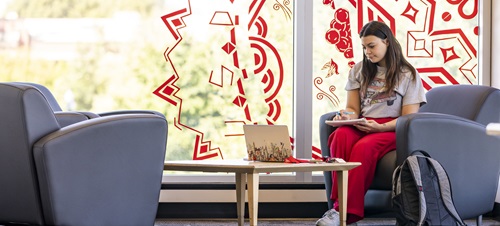 Creative Writing
Use the written word to generate new worlds and ideas to inform, inspire and entertain.
Why Study Creative Writing?
As a creative writing major at USD, you will learn the craft of writing in a variety of modes through a hands-on, action-based approach toward the goal of developing writerly skills in reading, craft and technique, and creative process. Our faculty members--all published writers--challenge students to experiment and take chances, to learn from the critiques of their classmates and professors, and embrace the process of revision and rewriting. At USD, you can explore writing classes in fiction, poetry, creative-nonfiction, screenwriting and publishing. You also have opportunities to read your work at public events, publish material in an annual student-run magazine and help manage an independent literary press. Our students graduate with the skills to work in editing, marketing, professional writing and teaching. Many pursue graduate work.
Experiment with different modes of writing, explore your personal voice and style and publish your work as a creative writing major at USD.
Degrees & Offerings
English: Creative Writing Specialization (B.A., B.S.)
Major with Specialization
A creative writing specialization allows an English major to extend the tradition of strong and imaginative creative storytellers, poets and creative non-fiction writers who have honed their skills at USD. Our faculty include novelists, poets, short-story writers and a South Dakota Poet Laureate. Students work in small, intimate classes on their own imaginative writing while also gaining a firm grounding in literature and literary criticism.
Creative Writing
Minor
A minor in creative writing allows you to combine your imaginative interests in writing with your primary major area. This minor pairs well with any Arts and Sciences majors allowing students to work with published writers to develop skills in story-telling and narrative development across a wide range of genres including poetry, drama, fiction, and creative non-fiction.
Program Details
Undergraduate
College
Department
Contact
Admissions
Student Opportunities
As a student at USD, the opportunities available to you extend beyond the classroom. Explore your interests, find your community and experience your education to the fullest extent through the following opportunities.
The Department of English offers opportunities for undergraduate students to participate in the operation of two periodicals and a literary press. South Dakota Review, a quarterly journal, publishes both creative and critical work for a national audience. Undergraduate students may assist English graduate students and faculty in the editorial and circulation duties associated with this publication.
The Vermillion Literary Project holds open-mic reading events, an annual writers festival and produces an annual anthology of local fiction, poetry and artwork entitled the Red Coyote. Undergraduate students participate in all of the group's activities. Astrophil Press produces award-winning books of literary fiction, non-fiction and poetry. Undergraduate students may help graduate students and faculty in management of this influential independent publishing enterprise.
Students who excel at writing can become a paid peer writing consultant at USD's Writing Center, which offers help in all areas of writing for USD students. Writing consultants receive training to assist students with any task that includes writing, including essays, reports, theses, short stories, resumes and cover letters. Working as a writing consultant gives you experience as a critical reader, proofreader and editor--all skills that will serve you in a future career.
USD is home to more than 170 student organizations, including several that are housed in the Department of English. For example, you may be interested in joining Vermillion Literary Project to make friends, develop new skills and explore your interests. Also, Alpha Mu Phi is USD's local chapter of the Sigma Tau Delta international English Honor Society. Students inducted into our chapter hold flash fiction contests, sponsor a little free library in the Vermillion community and present research and creative work at the national Sigma Tau Delta conference.
Departments & Facilities
Our faculty are experts in their fields, bringing practical experience in writing, communication and inspirational thinking.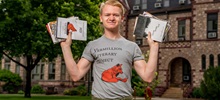 Investigate and gain insight into how we understand ourselves and communicate through stories, poetry and other narratives. Cultivate your ability to read and write and think about complex issues with the Department of English.
Faculty & Staff
Get to know your professors in the Department of English. The USD English faculty are award-winning, engaged researchers and creative scholars working within a supportive department community dedicated to providing students with diverse learning opportunities.