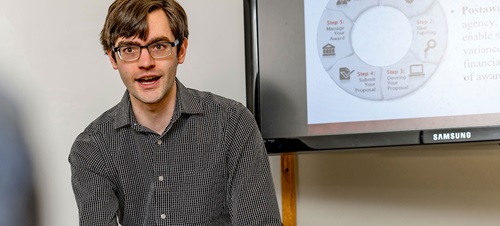 Psychology
Whether you want to serve others through assessment and treatment or explore the interactions of humans and technology, an advanced degree in psychology will set you up for success in your career.

Prepare for Advanced Careers in Psychology
USD offers the state's most comprehensive psychology program with graduate training leading to a Ph.D. degree with specializations in clinical psychology or human factors. Clinical psychologists focus on rural communities, cross-cultural differences with a focus on Native Americans, disaster mental health, first aid, trauma and substance abuse. Human factors professionals explore the interaction of humans and technology, testing the designs of systems, tasks, machines, tools and environments. The program has been fully accredited by the American Psychology Association since 1971.
As the workforce evolves, an advanced degree demonstrates your dedication to improving your expertise and credibility. Narrowing your research and focusing on a particular specialty allows you to become more competitive in your field.
Grow upon your past knowledge and skills and prepare for your future as a psychologist in either the clinical psychology or human factors field as graduate student at USD.
Degrees & Offerings
Program Details
Graduate
College
Department
Contact
Graduate Admissions
STUDENT OPPORTUNITIES
As a student at USD, the opportunities available to you extend beyond the classroom. Explore your interests, find your community and experience your education to the fullest extent through the following opportunities.
An Affordable Education

Gain valuable real-world, professional experience while enjoying paid employment and discounted tuition rates as a graduate student at USD. The affordability you gain through graduate assistantships and fellowships will equip you with valuable, professional-level skills that will set you apart after graduation.
Teaching and research assistantships are awarded by individual departments. If you do not receive an assistantship within your department, you are eligible for an assistantship outside of your academic program or within support offices (non-academic units) at USD. Further inquiries should be directed to the graduate director of the department.
Real Experience Through Research
You'll find the mentorship and opportunities you need to study topics that spark your interest. Some of our recent master's graduates in the psychology program have crafted their degree plans around the following research areas:
Rural community psychology
Cross-cultural/individual differences, with a particular focus on Native American mental health
Disaster mental health and psychological first aid
Trauma (interpersonal, generational, and PTSD)
Substance abuse
Mindfulness-based psychological treatment
At USD, our graduate students are actively pursuing unique research and presenting at local and national conferences exploring innovative areas of interest to them. Additional research and grant opportunities include:
Build Your Network
USD is home to more than 170 student organizations, including several that are housed in the Department of Psychology. You may be interested in Psychology Club or social activities to make friends, develop new skills and explore your interests.
Advocacy Coordinating Team (ACT)
The ACT consists of students and faculty who are committed to advocating for the profession of psychology at the local, state, regional and national level. The APA Graduate Student Association designates students to regional coordinators who assist in the development of state and departmental program-based committees.
Ally Group
Since 1996, the Ally Group has consisted of students who share a commitment to understanding the connections between racism, sexism, socioeconomic status, heterosexism and other forms of prejudice and discrimination. Ally provides a safe, supportive environment for difficult conversations.
Students of Color in Psychology (SCIP)
Since 1994, the program's Students of Color in Psychology (SCIP) mentoring program has provided opportunities for students of color in psychology to explore issues of race and ethnicity in their developing professional identity. The SCIP program sponsors social activities for its members and for the program as a whole. They also sponsor/co-sponsor presentations on the topic of diversity.
Health and Wellness Committee
The Wellness Committee consists of a group of clinical psychology students who coordinate, plan and fundraise for social activities within the clinical training program and Department of Psychology. Annual activities include a fall welcome picnic, winter party and year-end potluck picnic lunch and farewell to interns.
Graduate & Professional Student Association (GPSA)
Join your fellow graduate and professional students at USD. We aim to build a sense of community between graduate and professional students. Build your resume, network with others and gain experience and the unique opportunity to represent the interests of graduate students to the greater campus and community.
Departments & Facilities
Explore the departments, facilities and centers that contribute to your education in psychology.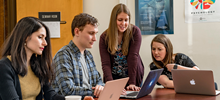 Expand your understanding of the human mind and behavior as you develop strengths in research, critical thinking, advocacy and service.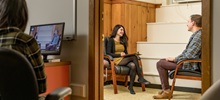 The Clinical Psychology program is committed to the scientist-practitioner model of training.
Faculty & Staff
Get to know your professors in the Department of Psychology. Our faculty serve as experts in their fields and maintain active research involving laboratory-based research, survey studies and/or community-based field research.
Surprisingly Affordable
Whether you've recently completed your undergraduate degree, or you want to kick your career up a notch, graduate school is the next logical step. The good news is there is funding for both online and on-campus students to get you through your program.
| | GA (Resident*) | Resident | Online | Non-Resident |
| --- | --- | --- | --- | --- |
| Tuition (1 cr.) | | | | |
| GAF Fee (1 cr.) | | | | |
| Total | | | | |
More About Tuition & Fees
Tuition rates are subject to change and may vary depending on the program or department. Visit the Graduate Tuition & Costs page for more information.
* Graduate Assistant (GA) rates are available for resident, non-resident and online students.
** Resident rates may be available to you through the SD Advantage, Child of Alumni or Western Regional Graduate Program. To see if you quality, visit usd.edu/grad-tuition.