Sanford School of Medicine Tuition & Costs
Take a look at our tuition and fees resources so you know what to expect at USD and can explore how to make your education even more affordable.
Incredible Value at Affordable Rates
At USD, you aren't just getting a degree – you are experiencing an enriching education that will serve you throughout your life. With nationally-recognized academic programs, out-of-class opportunities and expert instruction, your USD education offers an incredible value at one of the most affordable rates you'll find at a flagship university.
Tuition, Fees & Payments
Select which category best applies to you to see a breakdown of costs for your education.
| | South Dakota Residents | Non-Residents |
| --- | --- | --- |
| Tuition | | |
| Fees | | |
| Insurance | | |
| Housing, meals, education expenses, etc. | | |
| Total | | |
More Information
Housing & Dining
Housing and dining are important parts of the college experience for many students. Take a look at your options for housing and dining plans.
Billing & Payment
Already enrolled? We've put together a simple guide to paying your bill.
View Account Balance & Pay Bill
Withdrawal & Refunds
We're here to help you through every step of the enrollment and billing process, including any withdrawals and refunds associated with your education.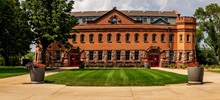 The Office of Financial Aid works with students and parents to explore the many resources available to help make your college education even more affordable.