Nursing Practice
A Doctor of Nursing Practice (DNP) degree positions you to be a leader at the organizational and system level in the ever-changing field of health care. Elevate the quality of health care and broaden your range of skills so you can thrive in a high-level career in the health care industry.
Become a Leader in Nursing
The changing demands of healthcare requires the highest level of scientific knowledge and practice expertise to transform healthcare and assure quality patient outcomes. This requires nurses who can lead transformative practice, provide system leadership, and move nursing practice to the highest level as they navigate and lead through complex health systems to promote individual, community, and national health.
As a student pursuing an advanced degree in nursing practice, you will gain the educational foundation and skills you need to thrive as a leader in health care. The online Doctor of Nursing Practice (DNP) in organizational system and leadership prepares nurses for leadership roles within health care organizations. The program is offered through a partnership between the Department of Nursing and the Beacom School of Business – offering a rich, interdisciplinary curriculum that prepares you to incorporate principles of business, finance, budget and policy, as well as nursing science, patient care improvement, population health and ethics, into your practice.

You will graduate as a nursing leader capable of providing nursing leadership within complex health systems, business and other healthcare settings.
Degrees & Offerings
Doctor of Nursing Practice: Organizational & System Leadership (DNP)
Doctorate with Specialization
The online DNP with a specialization in organizational and system leadership meets the growing demand for nursing leadership who practice at the organizational and systems level. This program prepares nurses to lead within complex health systems in roles of administration, executive leadership and academic faculty.
Program Details
Graduate
College
Department
Contact
Graduate Admissions

Start Your Application Today
This graduate program utilizes a specialized CAS online application to complete the admissions process. To learn more about this program's unique application process, requirements and program deadlines, visit Specialty Graduate Program Applications.
Additional requirements exist for international applicants. For more information, visit International Admission Requirements.
Known for Excellence
With qualities like small class sizes, specialized programs and incredible student opportunities, USD is not your typical university. What makes us unique is what makes your education exceptional.
USD offers advanced nursing programs online to make your education flexible and convenient.
USD is home to the state's only comprehensive health sciences school and medical school.
Prepare for high level careers in nursing administration, expand your knowledge of the business and finance areas in health systems or consider a career in academia as a nursing faculty.
STUDENT OPPORTUNITIES
As a student at USD, the opportunities available to you extend beyond the classroom. Explore your interests, find your community and experience your education to the fullest extent through the following opportunities.
An Affordable Education

Gain valuable real-world, professional experience while enjoying paid employment and discounted tuition rates as a graduate student at USD. The affordability you gain through graduate assistantships and fellowships will equip you with valuable, professional-level skills that will set you apart after graduation.
Teaching and research assistantships are awarded by individual departments. If you do not receive an assistantship within your department, you are eligible for an assistantship outside of your academic program or within support offices (non-academic units) at USD. Further inquiries should be directed to the graduate director of the department.
You'll find the mentorship and opportunities you need to study topics that spark your curiosity.
At USD, our graduate students are actively pursuing unique research and presenting at local and national conferences exploring innovative areas of interest to them. Additional research and grant opportunities include:
Departments & Facilities
Explore the departments, facilities and centers that contribute to your education.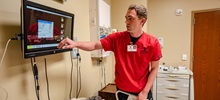 Our department offers undergraduate and graduate degrees in nursing, supporting today's health care workforce and delivery of quality patient care.
Faculty & Staff
Get to know the faculty and staff in the Department of Nursing. Our faculty are

committed professionals, experts in their field, and contribute to research and scholarship in health promotion, disease prevention, and chronic disease management. USD faculty are committed to producing life long learners, and develops exceptional health practitioners, leaders, and scholars who improve and advocate for the well-being of all people. We focus on person-centered care, with caring, compassion and respect as the foundation to nursing care.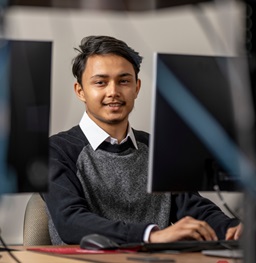 Take Your Classes Online
We're committed to bringing our knowledge to you. USD serves the largest number of online students in the state of South Dakota. With competitive online tuition rates, we offer the same price whether you're out-of-state or an in-state resident.
Enroll in an online program today!
View all online programs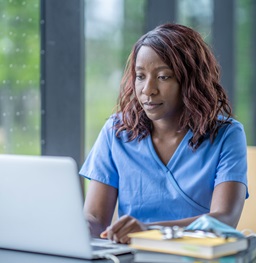 Developing Your Specialty
We have integrated a specialization into your advanced degree, ensuring you graduate with a marketable and unique education that positions you for success in your career. Your understanding of organizational and system leadership will make you an asset to your health care organization.
Surprisingly Affordable
Whether you've recently completed your undergraduate degree, or you want to kick your career up a notch, graduate school is the next logical step. The good news is there is funding for both online and on-campus students to get you through your program.
| | GA (Resident*) | Resident | Online | Non-Resident |
| --- | --- | --- | --- | --- |
| Tuition (1 cr.) | | | | |
| GAF Fee (1 cr.) | | | | |
| Total | | | | |
More About Tuition & Fees
Tuition rates are subject to change and may vary depending on the program or department. Visit the Graduate Tuition & Costs page for more information.
* Graduate Assistant (GA) rates are available for resident, non-resident and online students.
** Resident rates may be available to you through the SD Advantage, Child of Alumni or Western Regional Graduate Program. To see if you quality, visit usd.edu/grad-tuition.
Quality Educational Experiences
USD's MSN and DNP programs in nursing are pursuing initial accreditation by the Commission on Collegiate Nursing Education. Applying for accreditation does not guarantee that accreditation will be granted.
Accreditation fosters quality educational experiences and helps to assure that the program is taught by qualified faculty, has the resources it needs to support the curriculum, meets its mission, has acceptable student outcomes, and provides accurate information to the public.