Academic Affairs
Slagle Hall Room 102
414 E. Clark St.
Vermillion, SD 57069
Office Hours
Monday - Friday
8:00 a.m. - 5:00 p.m.
Welcome to the Office of Academic Affairs
The Office of Academic Affairs oversees all academic programs and other matters pertaining to the academic mission of the university, other than those reporting to the vice president for the Division of Health Affairs.
Kurt Hackemer, Ph.D., provost and vice president for Academic Affairs, and his staff are committed to providing administrative support to the university, its administration and its faculty, including:
Curriculum Development & Processing
Faculty Support, Development, Review
Promotion & Tenure
Sabbaticals
Academic Affairs provides oversight and support for the following programs and areas of the university:
Faculty & Staff
Get to know the faculty and staff in the Department of Academic Affairs. Our staff is committed to helping chart the course for academics at USD.
Faculty Awards
USD is committed to celebrating the achievements of our faculty. These faculty awards are university-wide achievements honoring excellence in their respective areas of education. Other faculty awards are made within individual schools and colleges.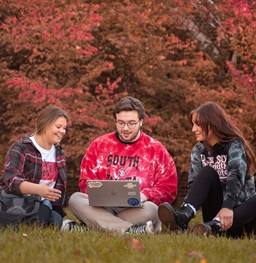 Everything academic at your fingertips
The online academic catalogs are comprehensive resources that include course listings and descriptions as well as information about admissions, tuition, financial aid, faculty, libraries and much more. From academic policies to programs of study, it's all there.
Online Catalog
Finish in Four
To help our students plan for completing and paying for a degree in four years, we provide plan of study guides as well as a total estimated cost for the total four-year, 120 credit hour program.
Four-Year Program Guides