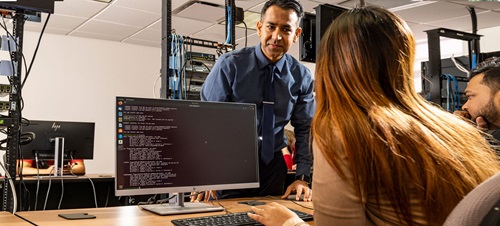 Data Science & Engineering
This Ph.D. program focuses on advanced skills in engineering, developing, constructing, testing and maintaining architectures for data, databases and large-scale processing systems.
Become An Expert in Data Engineering
As a student in the Data Science & Engineering program at USD, you'll learn how to clean and organize data, as well as develop the necessary skills to construct, test, and maintain architectures for data, databases, and large-scale processing systems through computer programming and mathematical processing. You'll have the opportunity to partner with top professors from both the South Dakota Mines and USD, bringing together the expertise of both institutions to gain a comprehensive and interdisciplinary education in data science and engineering.
The program curriculum is tailored to meet the needs of students who seek to advance their careers in data science, as well as those who aspire to become academic researchers. You'll engage in coursework covering a range of topics, including machine learning, data visualization, statistical modeling, and big data analytics. Additionally, you'll have the opportunity to conduct research with faculty members who are experts in various areas of data science and engineering.
The demand for data science jobs continues to grow. According to Forbes, data science jobs have increased by over 650% since 2013, making the skillsets gained from this doctorate program highly in-demand. You'll be equipped with the skills you need to design and implement cutting-edge data analysis solutions, make data-driven decisions, and develop innovative data-driven products and services. This will enable you to pursue careers in a variety of fields, including academia, industry, government, and health care.
Degrees & Offerings
Data Science & Engineering (Ph.D.)
Doctorate
A doctoral degree in data science and engineering is designed to equip you with the skills and knowledge necessary to excel in the ever-growing field of data science. The collaborative program is an exciting opportunity for students seeking a rigorous and interdisciplinary education to gain expertise from USD and South Dakota Mines. Pursue coursework in core, elective and research requirements for a total of 72 credit hours. You may apply 24 credits and six research credits from a previous M.S. degree toward the Ph.D. requirements, subject to approval by the student's committee.
Program Details
Graduate
College
Department
Contact
Graduate Admissions
Known for Excellence
With qualities like small class sizes, specialized programs and incredible student opportunities, USD is not your typical university. What makes us unique is what makes your education exceptional.
Since 2013, the number of jobs in data science and engineering has increased by over 650%, and experts project they will continue to rise by 28% by 2026. That is approximately 11 million new data science jobs by 2026.

Source: Forbes and U.S. Bureau of Labor Statistics
Amazing interdisciplinary course options through USD's partnership with South Dakota Mines is unique and what makes this educational experience exceptional.
98
Percent of Computer Science graduates secure employment.
Small faculty-student ratio assures you the one-on-one attention and mentorship you need to succeed.
STUDENT OPPORTUNITIES
As a student at USD, the opportunities available to you extend beyond the classroom. Explore your interests, find your community and experience your education to the fullest extent through the following opportunities.
Departments & Facilities
The Computer Science and Mathematical Sciences departments are home to programs, resources and services that benefit our students. Our award-winning faculty's research and teaching areas will help you understand the wide field of data science & engineering and how it impacts our everyday lives.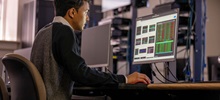 Learn to develop and manage technology that changes the world in the Department of Computer Science.
Our renowned faculty will help you understand the wide field of mathematics and how it impacts our everyday lives.
FACULTY & STAFF
Get to know the faculty and staff in the Computer Science and Mathematical Sciences department. Experts in their field, they contribute to research and scholarship in algorithms, artificial intelligence, machine vision, pattern recognition, data science, information retrieval, cybersecurity, statistics, analysis, biomathematical modeling and more.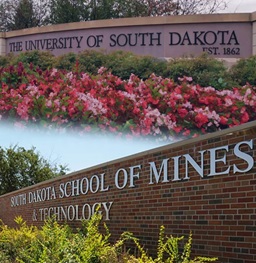 Two South Dakota Institutions
By collaborating with distinguished professors from both the University of South Dakota and South Dakota Mines, you can benefit from the combined expertise of both institutions.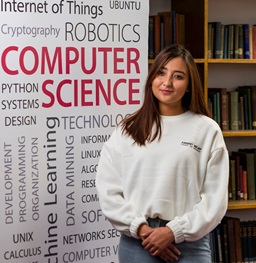 A Strong Computer Science Program
A team of faculty-led computer science graduate students competed in the Association for Computing Machinery International Collegiate Programming Content, only 50 teams in the world were qualified for this contest and USD was the only team in the region to attend. Be assured, you will be ready for top careers in the industry with an advanced degree from USD.
Surprisingly Affordable
Whether you've recently completed your undergraduate degree, or you want to kick your career up a notch, graduate school is the next logical step. The good news is there is funding for both online and on-campus students to get you through your program.
| | GA (Resident*) | Resident | Online | Non-Resident |
| --- | --- | --- | --- | --- |
| Tuition (1 cr.) | | | | |
| GAF Fee (1 cr.) | | | | |
| Total | | | | |
More About Tuition & Fees
Tuition rates are subject to change and may vary depending on the program or department. Visit the Graduate Tuition & Costs page for more information.
* Graduate Assistant (GA) rates are available for resident, non-resident and online students.
** Resident rates may be available to you through the SD Advantage, Child of Alumni or Western Regional Graduate Program. To see if you quality, visit usd.edu/grad-tuition.