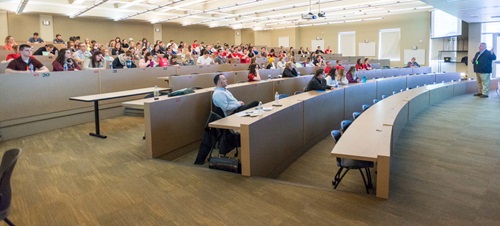 Healthcare Leadership
Our health care systems need thoughtful, expert leaders who can navigate challenges with poise and compassion. Prepare to thrive in a leadership role through the health care leadership program.
Why Study Healthcare Leadership?
Through the online healthcare leadership certificate program, you will expand your skills in management and leadership as you learn about health care delivery adaptations, patient safety and more. You'll explore relationship-centered care, value-based strategies, and inter- and intra-professional collaboration within health care environments – positioning you to be a leader in the ever-changing field of health care.
Become a leader who can strengthen our health care teams and ensure the highest standard of care for patients through the healthcare leadership certificate.
Degrees & Offerings
Healthcare Leadership
Certificate
Vermillion Main Campus, Sioux Falls and Online
A certificate in healthcare leadership prepares you for careers in the medical and health services industry. Courses address public health, patient safety, health literacy, leadership and more. For students who hold an associate or bachelor's degree from a regionally-accredited technical institute, the healthcare leadership certificate can be a stackable option toward the Bachelor of Science in technical leadership.
Program Details
Undergraduate
College
Department
Contact
Admissions
Departments & Facilities
Explore the departments, facilities and centers that contribute to your education in public health & health sciences.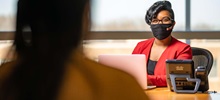 The Department of Public Health and Health Sciences emphasizes collaborative learning, equipping students with a rich understanding of the health care field and preparing them to excel in careers such as advocating for health policy, promoting health through education, managing health data analytics and leading collaborative health care teams. The department offers degrees at the associate, bachelor's, master's and doctorate levels.
Faculty & Staff
Get to know the faculty and staff in the Department of Public Health and Health Sciences. Our faculty are experts in their field, contributing research and scholarship in productive aging and gerontology, management of chronic disease, health and culture, attachment, Native American health and more.