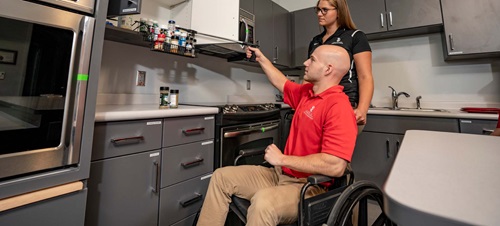 Interprofessional Disabilities Services
Through the interprofessional disabilities services minor, you'll gain foundational knowledge of the field of disability, learn how to best support people with disabilities and gain practical experience working with individuals and families.
Why Study Interprofessional Disabilities Services?
A minor in interprofessional disabilities services will help you better understand disability and learn how to best support individuals and families. Courses like Introduction to and History of Disability, Universal Supports in Disability Services and Introduction to Behavior Management will provide you with an enriching foundation in this field. You'll also have the opportunity to apply what you've learned in the classroom through supervised field-based learning experiences. The skills and knowledge you will gain through this minor will be valuable in a wide range of careers, including those in health care, education, addiction counseling and prevention, social work, and public health.
Degrees & Offerings
Interprofessional Disabilities Services
Minor
Explore the field of disability, gain valuable teamwork skills and learn about the services and supports available to people with disabilities. You'll also gain practical experience working with individuals and families.
Program Details
Undergraduate
College
Contact
Admissions
Departments & Facilities
Explore the departments, facilities and centers that contribute to your education in public health & health sciences.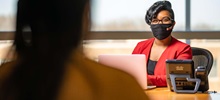 The Department of Public Health and Health Sciences emphasizes collaborative learning, equipping students with a rich understanding of the health care field and preparing them to excel in careers such as advocating for health policy, promoting health through education, managing health data analytics and leading collaborative health care teams. The department offers degrees at the associate, bachelor's, master's and doctorate levels.
Faculty & Staff
Get to know the faculty and staff in the Department of Public Health and Health Sciences. Our faculty are experts in their field, contributing research and scholarship in productive aging and gerontology, management of chronic disease, health and culture, attachment, Native American health and more.