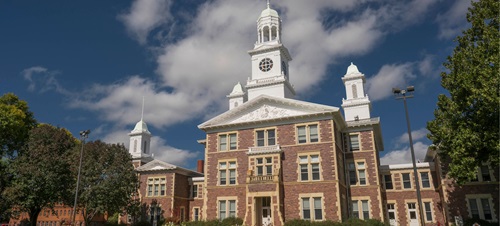 Scholarships
USD awards nearly $10.7 million each year in student scholarships. See what scholarships you may be eligible for and how to apply.

Applicants must use their USD e-mail account to access the scholarship application. The Scholarship Application is for new freshmen only.
Scholarships are a form of gift aid that does not need to be repaid. Scholarships are considered part of your financial aid package, and they may replace some or all of your financial aid eligibility.
Scholarships may be awarded for academic excellence, to recognize and encourage development in a particular field of study or for extraordinary artistic or athletic talent. The aid may be provided by the University, the USD Foundation, generous private donors or other sources. All USD scholarships and awards are subject to the university's Scholarship & Award Policy.
All Prospective Undergraduate Students
All prospective students may apply for scholarships using the online academic scholarship application. The academic scholarship application is generally available in the fall of each year with a priority deadline of November 15, and the final deadline for submitting the application is December 1.
By submitting the online scholarship application, you are automatically considered for all academic scholarships that match your qualifications.
As a reminder, you must first apply for admission and be accepted to USD before you can apply for scholarships.
Additional Scholarship Details & Opportunities
Explore the scholarship details below for information about scholarships you may be eligible for.
Outside Scholarships
There are many outside scholarships you can consider as you make a plan to pay for your education. Here are a few additional scholarship opportunities available through federal, state and other sources.
Additional Opportunities
The US Department of Education's Federal Student Aid website has additional scholarship information. Students can also find other opportunities at Fastweb.com and Scholarships.com.
Current USD Students
USD is committed to offering incoming students the best scholarship package possible and having that in place for their collegiate career. Once enrolled, USD allows a student's academic progress to lead the discussion for additional scholarships. If a department has additional funding, a student's advisor or department chair makes the determination. At USD, other than established certification programs such as nursing and education, there are no applications needed for returning students.
Make sure to complete the Free Application for Federal Student Aid (FAFSA). In addition, students should check community, church, civic opportunities and companies in which you/your parents are employed.
If there are extenuating circumstances or a situation which impacts your family's ability to finance your education, please feel free to contact USD's Financial Aid Office.