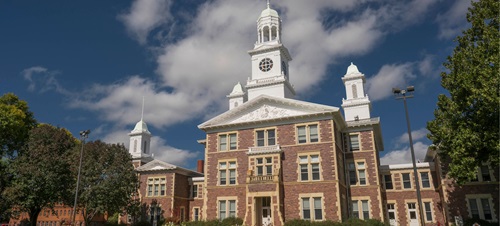 Scholarships
USD awards nearly $9.5 million in scholarships each year to undergraduate students. See what scholarships you may be eligible for and how to apply.
Scholarships are a form of gift aid that does not need to be repaid. Scholarships are considered part of your financial aid package, and they may replace some or all of your financial aid eligibility.
Scholarships may be awarded for academic excellence, to recognize and encourage development in a particular field of study or for extraordinary artistic or athletic talent. The aid may be provided by the University, the USD Foundation, generous private donors or other sources. All USD scholarships and awards are subject to the university's Scholarship & Award Policy.
All Prospective Undergraduate Students
All prospective students may apply for scholarships using the online academic scholarship application. The academic scholarship application is generally available in the fall of each year with a priority deadline of November 15, and the final deadline for submitting the application is December 1.
By submitting the online scholarship application, you are automatically considered for all academic scholarships that match your qualifications.
As a reminder, you must first apply for admission and be accepted to USD before you can apply for scholarships.
Additional Scholarship Details & Opportunities
Explore the scholarship details below for information about scholarships you may be eligible for.
Outside Scholarships
There are many outside scholarships you can consider as you make a plan to pay for your education. Here are a few additional scholarship opportunities available through federal, state and other sources.
This scholarship is $2,000 for the freshman year and recipients must be residents of South Dakota (graduate from a South Dakota high school), have a minimum 3.0 high school GPA and show financial need through completing the FAFSA.
Deadline: April 1, 2023.
Application Form (MUST ATTACH HIGH SCHOOL TRANSCRIPT) (may be e-signed or faxed copies)
Letters of Recommendation (MUST HAVE 3) (Copies will be accepted)
Financial Information
To be eligible for the Hatterscheidt Scholarship, a student must meet the following criteria:
Must be a South Dakota Resident; graduating from a SD high school or home school.
Must show financial need and must apply for Federal Student Aid.
Must have average minimum high school GPA of 3.0 on a 4.0 scale.
Home school students must have a minimum ACT score of 18 or SAT equivalent (960 as of 2021).
Applicant must be accepted for admission to the University of South Dakota.
Applicant must be "full time student" or enrolled in a minimum of 12 credit hours.
Applicant must submit a thank you letter to the Board by July 1 or will lose their scholarship.
If you have questions, please contact your admissions counselor.
Completed applications can be mailed to the following address:
Attn: Hatterscheidt Committee
Belbas Center
414 E. Clark St.
Vermillion, SD 57069
The South Dakota Opportunity Scholarship provides up to $6,500 over four years to a qualifying student who attends an eligible higher education institution in South Dakota.
The South Dakota Freedom Scholarship is available to a limited number of South Dakota resident students with unmet financial need. Recipients of the scholarship must commit in writing to live and work in South Dakota for three years after graduation. Visit the South Dakota Freedom Scholarship website for a full listing of eligibility requirements.
Learn More
Deadline: March 1 for new applicants and renewals are determined prior to fall semester.
Five $10,000 ($2500/year) scholarships are awarded yearly to graduates of Stickney, Plankinton or White Lake high schools with financial need who plan to attend a South Dakota Board of Regents institution. Renewal requires full-time enrollment and a cumulative GPA of 3.0
(25 awards at $10,000 each)
Application Dates: December 1 - March 15
The Horatio Alger Denny Sanford Scholarship provides a $10,000 scholarship to be disbursed throughout a student's collegiate career. Like all Horatio Alger Scholarships, the Horatio Alger Denny Sanford scholarship assists high school students who have faced great obstacles in their young lives to overcome their adversities, attend a post-secondary institution and achieve success.
To be eligible for the Horatio Alger Denny Sanford Scholarship a student must meet the following criteria:
Be committed to complete a bachelor's degree at University of South Dakota
Be a current high school senior with plans to enroll in college Fall 2022
Demonstrate critical financial need ($55,000 or less family income required)
Be involved in community service activities
Display integrity and perseverance in overcoming adversity
Maintain a minimum grade point average (GPA) of 2.5
Be a United States citizen
This program is for the children and dependent grandchildren of full-time and retired employees. Scholarship amounts are need based, and determined by the USD Financial Aid Office, based on the unmet financial need. Recipients must maintain a 2.5 GPA, be enrolled full-time, complete the FAFSA, and submit a thank you letter. Deadline is May 15.
Additional Opportunities
The US Department of Education's Federal Student Aid website has additional scholarship information. Students can also find other opportunities at Fastweb.com and Scholarships.com.
Current USD Students
USD is committed to offering incoming students the best scholarship package possible and having that in place for their collegiate career. Once enrolled, USD allows a student's academic progress to lead the discussion for additional scholarships. If a department has additional funding, a student's advisor or department chair makes the determination. At USD, other than established certification programs such as nursing and education, there are no applications needed for returning students.
Make sure to complete the Free Application for Federal Student Aid (FAFSA). In addition, students should check community, church, civic opportunities and companies in which you/your parents are employed.
If there are extenuating circumstances or a situation which impacts your family's ability to finance your education, please feel free to contact USD's Financial Aid Office.