Geospatial Analysis
We all have access to terabytes of free, spatial data - if we know how to access and use it. Learn how to use the equipment and software needed to create maps and other geospatial products.
Learn New Ways to Collect and Analyze Data
Geospatial analysis is the collection, analysis, and visualization of spatial data. Doing geospatial analysis requires the ability to use software including geographic information systems (GIS) and remote sensing and may require the ability to use equipment and hardware that integrate with the software including sensors and unmanned aerial vehicles (UAVs).
According to the U.S. Bureau of Labor Statistics, the demand for geospatial information systems (GIS) will be high over the next decade and predicts a growth of over 35% a year and a shortage of people to fill jobs in this specialty area. The skills you will learn earning this certificate will complement many academic major(s), minors or graduate programs. You'll receive an important introduction to GIS, the operation of UAVs and improve your data analysis and decision-making skills.
Degrees & Offerings
Geospatial Analysis
Certificate
Learn to use geographic information systems, remote sensing and unmanned aerial vehicles (UAVs) to conduct geospatial analyses. This 12-credit hour graduate certificate offers an additional credential for those looking to work in fields such as soil and plant science, environmental science and landscape management.
Program Details
Graduate
College
Department
Contact
Graduate Admissions
Departments & Facilities
Explore the departments, facilities and centers that contribute to your education in Sustainability.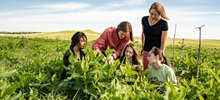 The field of sustainability invites us to examine the world we live in and imagine the possibilities for a brighter future. Find solutions to some of the world's most pressing challenges through the Department of Sustainability & Environment.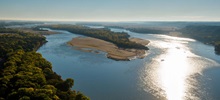 Located along the free-flowing Missouri National Recreational River, the Missouri River Institute explores the natural and cultural resources of the river through its focus on research, education and outreach.
Faculty & Staff
Get to know the faculty and staff in the Department of Sustainability & Environment. Our faculty are experts in the field, bringing practical experience in ecology, behavior change, hydrology, energy, climate change and more.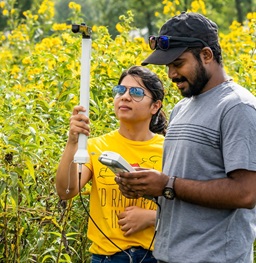 Network with Peers Throughout the Community
Take advantage of new opportunities to network with peers in the region and to become better equipped to increase social, economic and environmental sustainability awareness. Join your peers in hosting Earth Days, working with Vermillion's local organization Greening Vermillion or initiating on-campus project related to sustainability through the Campus Green Initiative Fund.