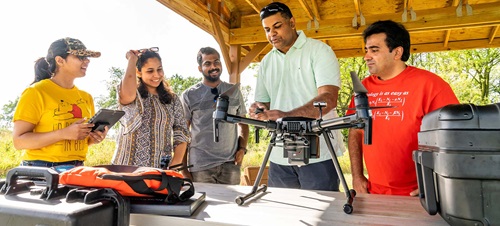 Geospatial Analysis
We all have access to terabytes of free, spatial data — if we know how to access and use it. Learn how to use the equipment and software needed to create maps and other geospatial products.
Why Study Geospatial Analysis?
Geospatial analysis is the collection, analysis and visualization of spatial data. Doing geospatial analysis requires the ability to use software – including geographic information systems (GIS) and remote sensing – and may require skills with equipment and hardware that integrate with that software, including sensors and unmanned aerial vehicles (UAVs). Through USD's geospatial analysis program, you'll gain these skills and set yourself up for success in the future.
With courses such as Remote Sensing, Introduction to Geographical Information Systems, Data Analysis/Decision Making and Undergrad Research/Scholarship, this program offers you a rich education in geospatial analysis that will provide you with the analytical and technical skills you need to be a leader in this area.
Degrees & Offerings
Geospatial Analysis
Certificate
Develop skills needed for geospatial analysis and gain hands-on experience working with software and equipment used in this field. The geospatial analysis certificate is a great complement to a variety of majors, including sustainability, biology, anthropology and political science.
Program Details
Undergraduate
College
Department
Contact
Admissions
Departments & facilities
Explore the departments, facilities and centers that contribute to your education in the Department of Sustainability and Environment.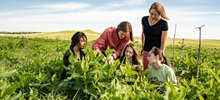 The field of sustainability invites us to examine the world we live in and imagine the possibilities for a brighter future. Find solutions to some of the world's most pressing challenges through the Department of Sustainability & Environment.
Faculty & Staff
Get to know the faculty and staff in the Department of Sustainability & Environment. Our faculty are experts in the field, bringing practical experience in ecology, behavior change, hydrology, energy, climate change and more.