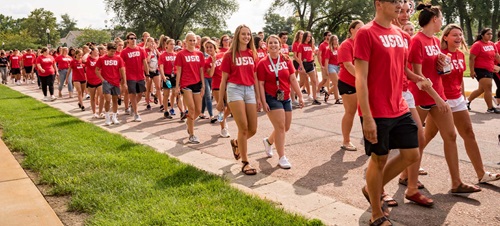 Admitted Students
Congratulations! You're a Coyote. Use this list to stay on track as you prepare for your first semester.
Your Admitted Student Checklist
We are excited for you to join us on campus, and we are here to make sure you have everything you need to stay organized and informed as you complete the remaining steps for registering for classes, securing housing and more.
Review the steps below to ensure you are on track to begin your first semester at USD this fall. If you have any questions, reach out to your admissions counselor. We look forward to welcoming you into the Coyote community!
Transfer students* and students at USD – Sioux Falls**: Look for asterisks below for clarification on how your steps may differ.
1. Set up your USD account
After you have been accepted you can activate your USD account – including your USD email. Once you pick up your account, you will have access to the myUSD portal which includes technology you will use as a USD student.
2. Install Duo Security
After you activate your USD account, it is important to protect it. Install Duo two-factor authentication on your USD account for another layer of online security to protect your personal information. Duo is mandatory for all USD students, faculty and staff.
3. Make Your Commitment to USD and Apply for Housing
Let us know that you're ready to become a Coyote by submitting your $100 University Housing Deposit. This provides you with your on-campus housing options and confirms any scholarship offers you receive from USD. Please contact the Office of Admissions to confirm your enrollment if you are requesting to live off campus.
Commit to USD and Access Housing Application
NOTE: South Dakota Board of Regents Policy requires you to live on campus and enroll in a meal plan during the first two years immediately following your graduation from high school. Special permission to live off campus is generally granted to students living full time with parents or legal guardians, students enrolled primarily at off-campus locations and students with dependent children. Please see the complete SDBOR Housing & Meal Plans Policy 3:6 for information on policy exceptions and exemptions. Please see USD Housing policies and forms for more information.
Housing Contract release applications received by University Housing prior to May 1 (Dec. 20 for spring contracts) will receive a full refund of their university housing deposit if approved. Contract release applications received on or after that date will forfeit the university housing deposit if approved.
*Transfer students: If you do not intend to live on campus, contact your admissions counselor to confirm that you have chosen to enroll at USD. If you prefer to live on campus, or if you are within your first two years following your high school graduation, complete the steps above.
**Students at USD – Sioux Falls: Contact your admissions counselor to confirm that you have chosen to enroll at USD. Submitting a housing deposit is not necessary.
4. File the FAFSA
You can file the FAFSA anytime after Oct. 1. Be sure to file your FAFSA by USD's priority deadline of April 1. List USD's code of 003474 on your FAFSA.
Beginning mid-April, financial aid award letters will be available in your Student Portal. Review your financial aid award carefully before accepting your financial aid package. Please call the Financial Aid Office at 605-658-6250 with any questions. Additional information about accessing the Financial Aid Self-Service Portal and accepting your award can be found here.
5. Review Immunization Requirements
All new, readmitted and transferred students are required to provide medically signed proof of TWO properly administered MMR (measles, mumps, rubella) immunizations OR immune titers for measles (rubeola), rubella and mumps. The immunization form must be completed before you can register for classes at USD. Read more about the mandatory immunization form.
Download the Immunization Form
6. Take Placement Exams, if Needed
Placement exams are available to ensure you are registered for the correct courses based on your knowledge of math, English and foreign languages. Placement testing can be taken at, or before, your registration. Find out more about Placement Exams.
Please contact your admissions counselor if you need to take a placement exam or if you need additional information prior to your registration.
7. Register for Classes
Get ready and register for your fall classes! During Coyote Registration, you'll meet with an academic advisor, register for classes and learn all about the many resources available to you. You'll also receive an invitation to visit us on campus. Beginning in April, check your personal email for more information on registering for our registration and/or orientation events.
Registration Tip
Coyote Registration Dates
Coyote Registration sessions are available in the late spring and summer for admitted students attending USD in the fall. Check your personal email beginning in March for more details on how to register for a Coyote Registration event. If you have questions, please contact your admissions counselor or the Admissions Office at admissions@usd.edu or 605-658-6200.
8. Computer Requirements
A personal computer is important to your academic and communication needs at college. Some academic programs require specific laptops. Check out these tips for selecting and preparing your computer to take full advantage of the computing resources available to you at USD.
9. Final Steps!
*Transfer students: If you do not intend to live on campus, you will not participate in room self-selection or Move-In Day.
**USD – Sioux Falls students: Parking passes are not needed at USD's Sioux Falls campus. You will not participate in room self-selection or Move-In Day.
10. Welcome Week Orientation
You've met your advisors. Now meet your fellow students! Held in the days just before classes begin, Welcome Week Orientation is a celebration of USD's incoming class with opportunities to meet other students, discover common interests, explore Vermillion and settle in to your role as a USD Coyote. Live entertainment and insightful sessions on college life will help launch you into your first year at USD.
This year's Welcome Week schedule will be released at a later date.
Once again, congratulations and welcome to the Coyote family!
Mark your calendar now to plan ahead for the first day of classes and other important dates. You can view USD's academic calendar here.